From Tyler Whisman
As we've worked on developing ThoroPACE, I've focused more on individual races – wagering more on Win and Place, along with other vertical wagers. Previously, I would focus the overwhelming majority of my bankroll on Pick Ns, with varying degrees of success.
With that in mind, I'm going to meander through the card and focus on races where the ThoroPACE Forecast offers some clues on horses I want to key my day around.
Keep in mind, if you're a user of Xpressbet, you can leverage their "Parlay" option to create your own Pick N for races that are not in a specific sequence. I like to use this if I'm tied up and know I won't be able to place wagers as the races occur. Of course, you're locked into the wager and subject to the off odds – so it's less than ideal, but I thought I'd mention it given the way I'm writing this analysis. If you have questions, reach out to me via Twitter.
***The following is before scratches, which can impact the pace, especially for races that appear to favor stretch runners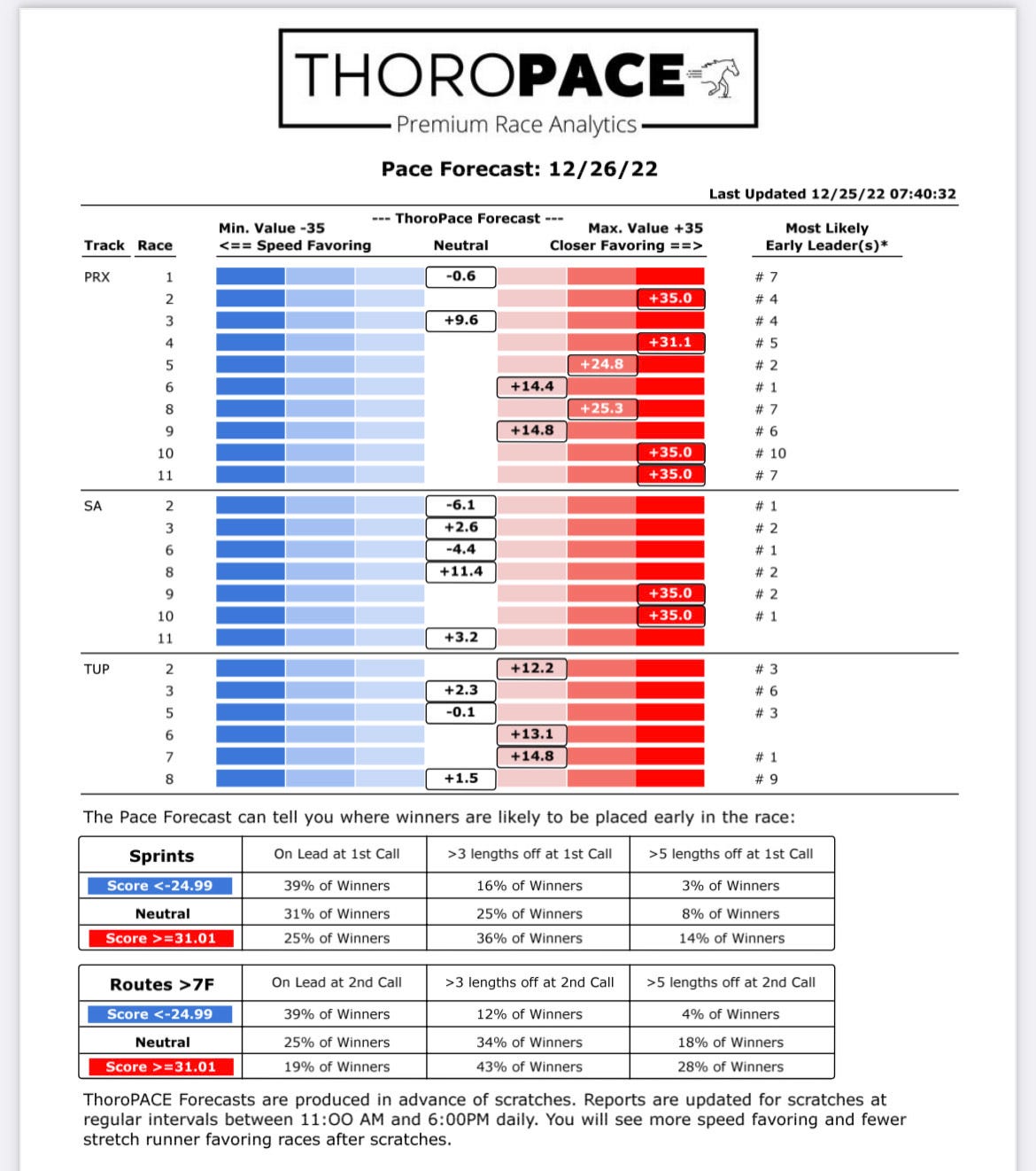 Race 1:
ThoroPACE Forecast: N/A
1 BALNIKHOV has a devastating late kick, but will he get a favorable pace setup? There is no Forecast here as there is a first time North America starter – who might be okay in this spot. That said, this race looks to favor runners that will be forwardly placed.
7 SUMTER stretches out to what appears to be his optimal distance. He also figures to have the lead, assuming Mike Smith is aggressive. If the Morning Line holds, I'd consider a win bet on this runner.
**If playing the early Pick 5 I'd single here and in Race 4 (3 FAUSTIN looks special, and will probably be 2/5 come post time after four consecutive gate works)
Race 2:
ThoroPACE Forecast: -6.1
The ThoroPACE Forecast favors speed runners – scratches only help in this situation. In a small field, 1 PRINCIP looks like controlling speed from the rail.
Race 7:
ThoroPACE Forecast: N/A (Due to the QH races from the 6)
8 BIG BEAUTY is a tepid morning line favorite but figures to be much shorter come post time. The pace situation doesn't do her any favors, making it hard to take a short price, despite her figure edge (bigger on TG, which accounts for ground loss). Though she nearly overcame a similar situation two back.
This field is light on experience over the tricky downhill course, so there's not much to go on there either. So once you get past the favorite, it seems pretty wide open.
We have a vulnerable favorite, but it's hard to have much confidence in the rest of the field. I chose to include this race as it kicks off the Pick 5. In past years, it's a good example of a race that I would have spread in, but now I will simply skip the race and sequence – looking to capitalize in other spots.
Race 8:
ThoroPACE Forecast: +11.4
A small field with a fast pace? For several reasons, this one might heat up beyond what the Forecast might suggest. And because of that, I'm looking for stretch runners.
6 FUN TO DREAM might be the right Baffert at a bit of a price. I'm particularly intrigued by the 12/17 work (though I wish the one last week was something other than 3F?) and think this filly might be moving forward at the right time.
Race 9:
ThoroPACE Forecast: +35
Scratches could change the pace complexion significantly – so that's worth monitoring. Assuming the speed stays in the race (2, 4 and 10 specifically) 7 MYFAVORITEDAUGHTER might be worth consideration as she overcame speed-favoring conditions in her last. The distance is a question, but the price should compensate.
Race 10:
ThoroPACE Forecast: +35
6 TAIBA figures to be a heavy favorite in the Grade 1 Malibu. And it looks like he will get a great setup for his finishing kick. He looks formidable in this spot, assuming it's not too sharp.
From a vertical perspective, I want to key 5 HOIST THE GOLD in 2nd/3rd spots.
Race 11:
ThoroPACE Forecast: +3.2
Assuming Tyler G. is aggressive from the gate, 6 MISE EN SCENE might find herself on the lead, and could be very difficult to pass late. An easier spot than her last, she ran well in the Breeders' Cup and might have more upside. The Forecast is in her favor.
*NOTE: ThoroPACE Pace Forecasts range from -35 (best for speed) to +35 (best for stretch runners). Also, our products are updated to reflect scratches as they become available (typically an update of our products occurs around 11AM, 3PM and 6PM ET each day).